Donkey Crew, the team behind the popular "cRPG" mod for Mount & Blade: Warband, is working on wholly original game called Of Kings And Men. It will be available on Steam Earl Access on August 25th. The focus here is on large, persistent, medieval war zones. Imagine a multiplayer battlefield where 200 players are crossing swords and conquering kingdoms. You can train your character, practice your skills, and unlock a myriad of 13th century weapons and armor, but that's only the beginning.
You will be able to form factions and fight along side your friends to conquer new territories, or defend your own with hand-built fortifications. This sounds like a true medieval war simulation, not just a way to reenact battles. You will have to plan strategically and out smart your opponents using politics, shrewd economic practices, and of course brute force when necessary. All of this is capable through Donkey Crew's propriety engine that helps combine these systems into something that they say looks and plays good.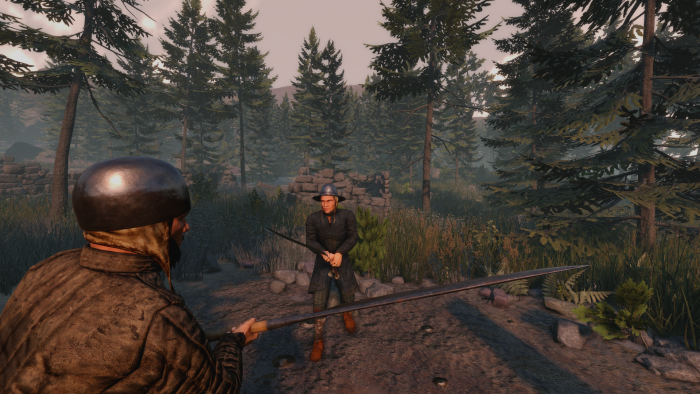 I, for one, am excited to see how Of Kings And Men pans out. The idea of a persistent, medieval war zone with teams and kingdoms fighting over territory is intriguing; imagine conquering Europe and molding history as you see fit. But there is a lot of game here, lots of systems working together. With up to 200 players going at it, stability will be paramount. Disconnects, slow computers, and player skill levels will have to taken into account. Outside of combat, the progression system will have to be engaging, and how exactly will the politics and economic systems work? Time will tell if Of Kings And Men will reach it's lofty goals.
Even though the game will be in Early Access for some time, the early access features are quite impressive. Here are some key points from the press release:
---
Key Features in the Early Access launch:
Battles.  Over 200 players can battle it out in large, skirmish regions
Factions.  Team up and wage war against enemy kingdoms
Skills.  Train your character and practice your personal skills
Progression.  Unlock Swords, Polearms, Spears, Bows, Crossbows, and other authentic 13th Century weapons and armors to customize your look and play style
Dynamic Combat.  Fight with a fast-paced and intuitive combat system, based on the experience of Historical European Martial Arts (HEMA) fighters and medieval manuscripts
Proprietary Engine. Donkey Crew's custom engine provides a highly optimized, beautiful experience.
GENRE: Multiplayer Action / Strategy
DEVELOPER: Donkey Crew
PUBLISHER:  Green Man Gaming
PLATFORM: PC
RELEASE: 25th August 2016
---
The early access version Of Kings and Men is available for pre-purchase, currently at a discount, from Green Man Gaming and the Humble Store, and will be available to purchase from Steam on August 25th. Keep your eyes peeled for more info as it becomes available.